Things to do in Zagreb on a budget
There are a lot of things to do in Zagreb nowadays, it's not a sleepy capital city any more having nothing to offer to their visitors. Zagreb has definitely changed in the last 10 years since the Croatian capital see more and more tourists every year. It is one a must-visit place in Croatia, during the whole year.
Coffeetime!
Springtime in Zagreb is marvelous. Bars opens their terraces and people start to do their most preferred activity – people watching while sipping their coffee. Croatian people just love to sit and drink their coffee for hours. Yes, you read it correctly. For hours. But how can you you prolong that espresso to last two hours, you might ask yourself. It's not about coffee at all, it's about hanging together with your friends and have a long long chat over a drink. And if you're thirsty, you drink that free glass of water you get with your espresso. Average price of a cup of coffee in Zagreb is around 1,5-2 euros so you don't have to spend a lot to learn a lot about Croatians. Just try it, sit at a terrace in the centre in Bogovićeva  or Tkalciceva street, order a coffee and spend your time just like a local. We do this coffee ritual every day, before going to work, during the break and after we're done with working, but weekends are our top "coffee days". That's when we meet with friends in the city centre, buy groceries at the Dolac market and spend hours with friends doing really nothing but talking to each other.
Tourists can enjoy better their walks in the beautiful city centre. Days become longer, photos they take are brighter and the prices are still very affordable.  There are no crowds, the temperatures are mild and everything is much more relaxed.
Unusual museums!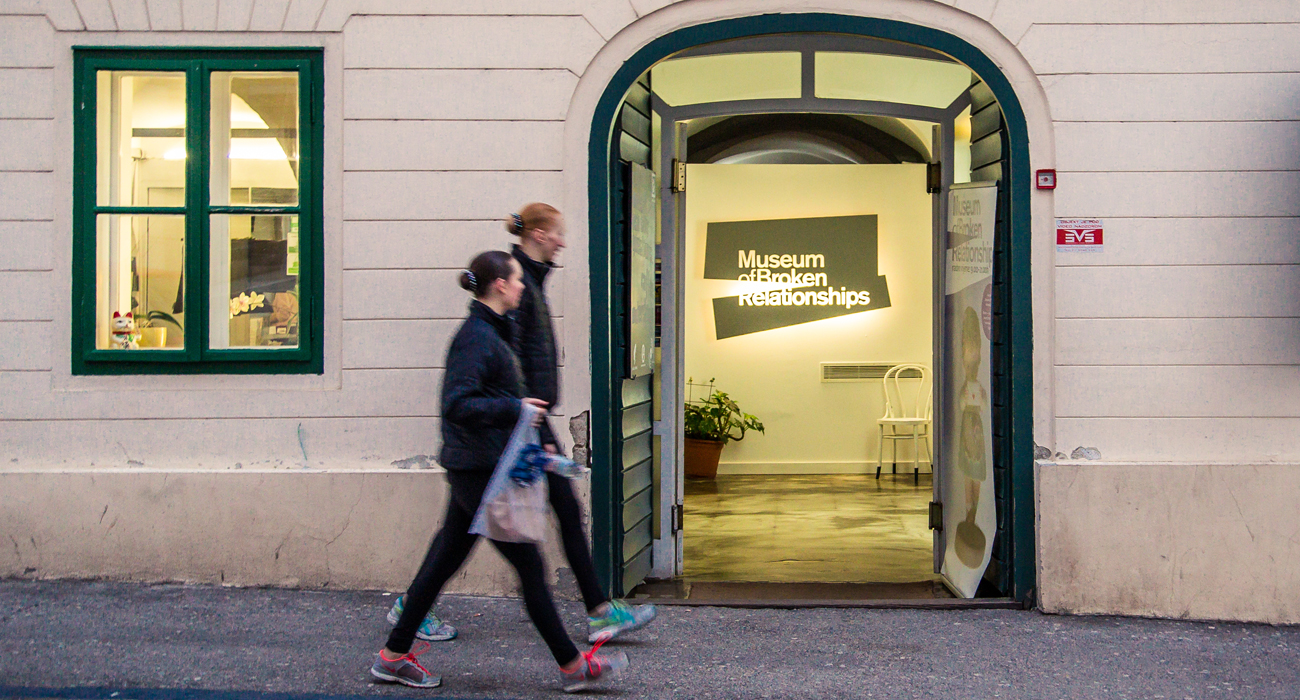 Visit some of the most cool museums in the world:
Museum of illusions, when things will mess with your brain.
Address: Ilica 72, the main street going from the main square, just follow the tram tracks
Museum of torture, a realla macabre museum with instruments of torture & execution, including a full-scale guillotine.
Address: Radićeva 14
Zagreb 80's, the apartment that presents our life druing 1908s while we were still a part of Yugoslavia
Address: Radićeva 34 www.zagreb80.com
Museum of broken relationships, where a lot of thing from people's passed relationship are presented in a very unique way
Address: Upper Town, Ćirilometodska  2,
The entry to the museums is pretty affordable (5 to 10 euros) and students have various discounts, as well as groups.
Local food!
They are hundreds, literally hundreds, of bars and restaurants in the city centre, each offering something different to taste. Zagreb food options are budget friendly in most of the places, especially if you're looking for something more common and traditional. What you should try read in our guide Best Croatian food: 13 must-try local dishes.
Festivals!
The beginning of the summer means festivals!
There are so many festivals going on – food festivals, street performers festivals,  film and music festival, book festivals…the city becomes so much fun, there are so many things to do.
Let us just name a few:
Animafest- the beginning of June, the festival of animated film attracts a lot of visitors
IN Music festival – on of the biggest festival in this part of Europe, featuring many big names, usually staring around the 20th of June.
C'est is the best – end of may/start of June, this street festival features a great number of unique, crazy and wonderful different artists and street performers.
Sea of Books – book festival in the central Zagreb park Zrinjevac, where people just chill on sundecks, drink their cocktails and read books.
Summer on Stross– basically a series of musical and other interesting  events on Strossmayer Boulevard in Zagreb's Upper Town, taking place from the end of May until the start of September.
Pop Up Summer Garden- beginning of June, tucked away in a small park just a few minutes away from Ilica Street in the centre of Zagreb, featuring plenty of music, events, creative art and installations. Grab your drink and enjoy the atmosphere.
Fantastic Zagreb Film Festival – fiction film festival in July for lover of sci-fi, horror movieas and thrillers.
Veceri na Gricu (Evenings on Gric) – a series of concerts in the Upper Town during July and August.
Dvorišta (Courtyards) –inhabitants of the Upper Town of Zagreb open their yards every July for a week or two and music and gastronomic events take place in those usually hidden places.
Zagreb Film festival– October/November, the biggest film festival in town.
Streetart!
Zagreb walls have seen a lot of new artists leaving their blueprint so if you're into streetart, check some of the best works throughout Zagreb. Climb up to the Upper Town to see the big blue whale, the portrait of Penkala, inventor of the mechanical pen, famous Nikola Tesla and several other artworks, then go to the Savska street and just behind the hotel Westin you'll find more amazing art by one of the most known artists Lonac, then head to the Student center (SC) a few hundred metres away to find art by OKO, grab a cab and cross the river Sava to stop by the Museum of Modern Art where you'll see more OKO's art, but one of the most amazing pieces of art is located in an uknown place- heartbeat, animated mural.
Then grab a cab and return to your HI hostel in Petrinjska street, where you'll find some more art by Lonac.
Sightseeing!
Start exploring from the Upper Town, the oldest part of Zagreb offering some of the best views of the city. But if you want THE view, go the the only skyscrapper on the main square and get to the top floor where you will find Zagreb Eye Observatory (if you own an EYCA card, you can get a discount entry pass).
Check the installation in Bogovićeva street  (1 min walk from the main square)– the Grounded Sun. It's one of the severn planets "planted" around the city so if you're into a bit of cool hunting , go find all of other planets around the city. Distances of the "grounded" planets are proportional to actual distances of planets from the Sun.
The largest sculpture of the planet Jupiter has a diameter of 28 centimetres and the smallest Pluto (officially no longer a planet since 2006), only 3 milimetres. Distance to the nearest planet Mercury, from the Grounded Sun is 75 m, and to the most distant Pluto is 7658.6 m so you'll need a cab to reach it.
And if you're here in Christmas time, Zagreb Advent will take your breath away! It was named the best European Christmas market for the three consecutive years (2015-2017) and each year it's getting better and better. Magical places for you to enjoy are scattered across town, but most fun is located in the city centre, both in the Upper and Lower Town.