Best Croatian food: 13 must-try local dishes
Croatian food is partly Mediterranean, partly continental so you won't be eating the same food in southern Dalmatian cities like Dubrovnik and Split as you will in Zagreb or Osijek in the East.
Croatian cuisine has been heavily influences by many nations who used to rule or live here, or at least by those who we had contact with. Southern and seaside parts of Croatia have been influenced mostly by Italy, while central and northern parts have had more to do with Austria, Germany or Hungary. We have also adopted many excellent Turkish dishes, primarily due to several decades of living in Yugoslavia where we came into contact with dishes from other nations  who were on their part influenced by Turkey.
What do Croatian eat usually? A lot of meat. A lot. Especially in the central and eastern parts of the country, where the locals traditionally eat a lot of pork meat and sausages. In Dalmatia the preferred meat is lamb, but since it's quite expensive, you won't find it so often on the table.
We eat a lot of bread for sure. There are so many bakeries opened all over Croatia that you just can't miss them while walking around. Bread is served almost with everything and it's quite impossible for a typical Croatian to spend a day without eating some bread.
We eat a lot of potatoes, too, mostly as a side dish with meat.
In Istria and Dalmatia you'll notice a big Italian influnces. Since we are a Mediterranean country, olive oil is omnipresent in all kinds of dishes along the coast, as well as tomato, zucchini and swiss chard. In istria one can hardly avoid truffles, so be sure to taste them, whether black or white version.
Pasta is a common dish everywhere, as well as pizza and of course – ćevapčići or shortly ćevapi (prounce it as cheva:py)– a grilled dish of minced meat, like meat fingers.
So, what Croatian food should every visitor try and where?
We will inclued in our recomendations both seaside dishes (Meditteranean cuisine) and continetal dishes, with ćevapi as a common dish across the country.
Ćevapi
Although the best ćevapi you can eat are in nearby Bosnia, they are served in almost every restaurant in Croatia. It is eaten with lepinja (a special kind of flat bread), with a lot of sliced onions and ajvar or kajmak (kaymak in English). Ajvar is a pepper-based condiment made principally from red bell peppers,  and kaymak kaymak is a creamy dairy product similar to clotted cream.
A portion of ćevapi usually consists of 10 meat fingers.
Drink a beer with it.
Kulen – sausage
A very nice Slavonian cured meat. Kulen is as flavoured dry sausage made of minced pork. After stuffing, the sausages are cold-smoked and ripened-dried afterward for several months to get that rich, and sometimes a bit spicy, flavour.
Eat it as with bread as appetizers and pair it with a glass of good Slavonian red wine.
Štrukle
Štrukle or štukli (pronounced as shtru:kley) is a cheese dish from the northern region of Zagorje. Its is a popular traditional Croatian dish composed of dough and various types of filling which can be either cooked or baked. You can find them in many Zagreb restaurants. There's even one place serving only this dish- Le Štruk, in the centre of Zagreb.
Stuffed peppers
One of favourite dishes of all Croatians is stuffed peppers, slowly cooked minced meat stuffed in empty peppers. It is served with mashed potatoes and one portion usually has two large stuffed peppers. We locall call this this "punjena paprika."
Sarma
In Croatia there a popular question: sarma or paprika (stuffed peppers)? Both dishes have minced meat and are cooked slowly, but meat in sarma is wrapped in cabbage leaves, not stuffed. A lot of people in Croatia says this is their favourite meal!
Zagreb schnitzel
Austrian influence can be seen in Zagreb architecture, but also in its cuisine. Zagreb used to have a nickname "Little Vienna" so no wonder we have a dish resembling the Austrian Wienere schnitzel, but improved. While the Wiener schnitzel is breaded and pan-fried veal cutlet, the Zagreb version has also a slice of ham and cheese stuffed in it.
Black risotto
Risotto after which your lips are black gets it colour from squid. Order a black rissoto and add some parmesan cheese on top to have a typical Dalmatian light dish. Drink some wine with it.
Brudet/brujet
Brudet, brodet or brodeto is a rich fish stew typically eaten in the seaside regions of Croatia – Dalmatia, Kvarner and Istria. It comes in various versions, so you can have a mix of fish, squids, shrimps or even snake fish in one dish. It is usually served with polenta.
Drink a glass of good Istrian of Dalmatian white white with it. Rose also goes great with it!
Buzara
Buzara is simple dish of mussels or shrimps in a wine broth with garlic and breadcrumbs.
The name buzara actually mean stew, so you eat it with a lot of bread. And usually without the use of cutlery.
Order it when in Dalmatia.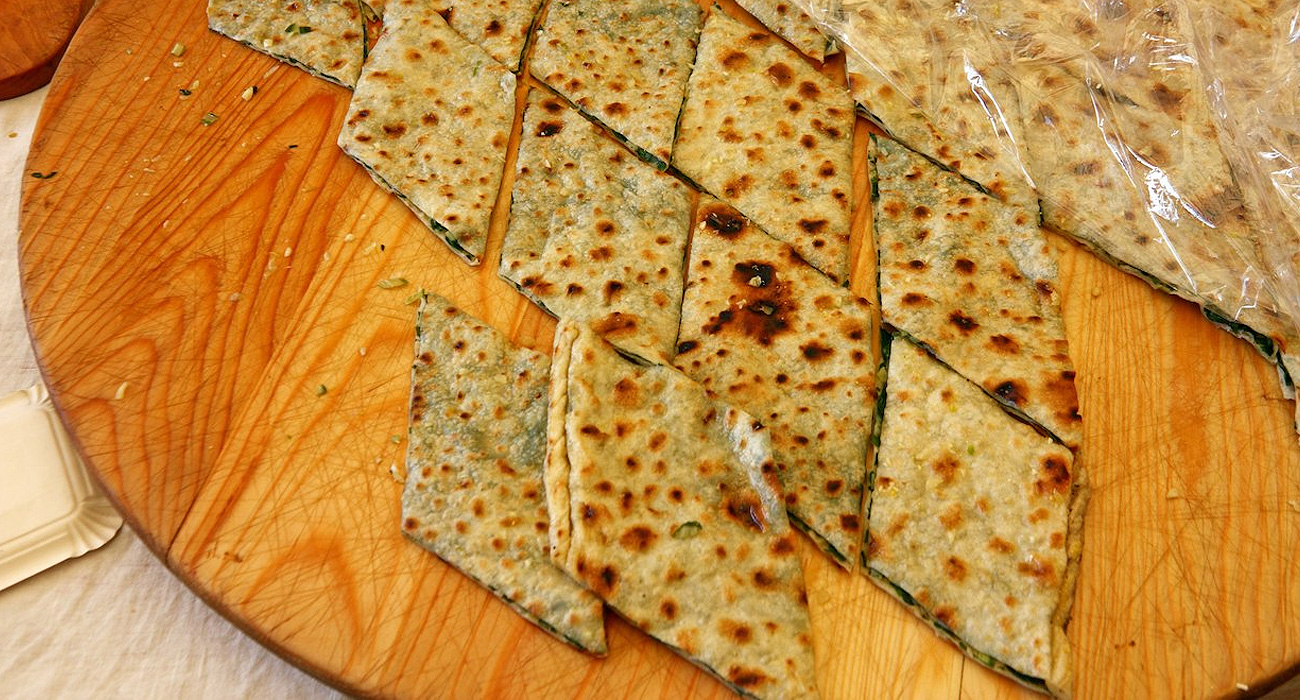 Soparnik
Traditional dish from Dalmatian place called Poljica is a flat vegetarian pie filled with Swiss chard, garlic and parsley. It´s cooked on a hot stone and served in pieces like pizza cuts. You can't find it in many places, but more and more restaurants are starting to offer it to their customers looking for original Croatian dishes.
Lamb on a spit
If you drive from Split to Zagreb via local roads, you'll see a lot of places offering janjetina (Croatian word for lamb) and you'll even see whole lambs grilled on a spit. Yes, whole lambs together with a head and legs. It is roasted slowly, for hours and hours, and is considered one of the top specialties throughout Croatia.
If someone offers you roasted lamb, it's an honour.
Some of the best places to eat lamb is in the island of Cres, the island of Pag or the island of Brač, but also Klis (a place above Split) and along the D1 road connectin Zagreb and Split.
Pašticada
Pašticada or pashticada as you should pronounced it, is a Dalmatian specialty. It is a slowly cooked piece of veal, flavoured with wine, carrots and cloves. When perfectly cooked, you should be able to eat it with just a fork. That's how soft and tender it should be.
It is usually served with gnocchi.
Order it when in Dalmatia.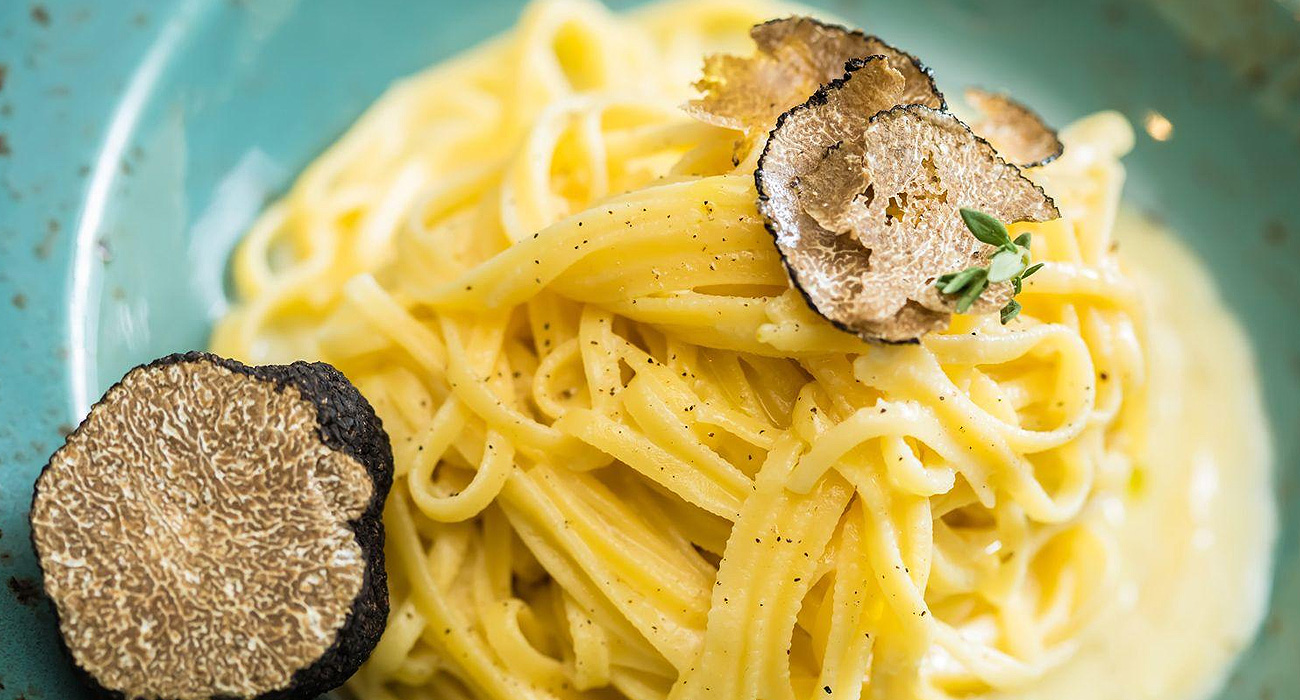 Pasta with truffles
In Istria try their fuži with truffles. Fuži or fusi is a homemade pasta, so light and tasty, served with different sauces, meat or truffles.